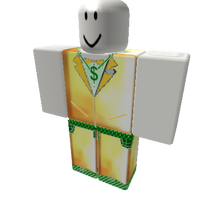 Pants
are textures placed around a user's torso and leg bricks defined by its
PantsTemplate
property. Any user can purchase and wear pants, but only Builders Club users can create and sell them. Like most items on Robux, they can be bought with either Robux or, formerly, tickets. The template was changed as of 2016, like the other types of clothing.
Like shirts, pants have the ability to be transparent, which makes advanced graphic programs, such as Paint.NET and Adobe Photoshop, helpful to many pants creators.
Template Gallery
Templates are tools that create the basic layout of clothing and help guide creators in designing their clothing.
Free Pants
​ROBLOX​ has pants sold for free. Click here to see all the free pants.
Free Pants Not Created by Roblox (somehow)
For some reason, there are pants that are actually free in the catalog not created by Roblox. Instead, they are created by other users. It's unknown why and how this is the case, other than the fact that you could possibly make pants for free at a time. One of these pants appear to have hashtags as the name, since the original name was "undertaker pants" which is an inappropriate name.
Here are all the free pants not created by Roblox:
https://www.roblox.com/catalog/1972087/Chainsaw-man-pants-v-1
https://www.roblox.com/catalog/23571257/I-feel-Bricky-2
https://www.roblox.com/catalog/3311084/General-pants-pilot-wars
https://www.roblox.com/catalog/2235860/wizard-pants
https://www.roblox.com/catalog/2402457/unnamed
See also