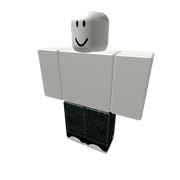 Pants
are textures placed around a user's torso and leg bricks defined by its
PantsTemplate
property. Any user can purchase and wear pants, but only users with
Roblox Premium
can create and sell them. Like most items on
Roblox
, they can be bought with 
Robux
. The downloadable template for pants was changed as of 2016, like the other types of clothing.
Like shirts, pants have the ability to be transparent, which makes advanced graphic programs, such as Paint.net and Adobe Photoshop, helpful to many pants creators.
History
Around April 2008, Roblox has implemented wearable textures for players to cloth their avatars with--pants and shirts.
On April 23, 2008, John Shedletsky on YouTube has uploaded the music video of pants and shirts titled: Shirts... And Pants. Pants Pants Pants Pants, composed by Stealth Pilot.[1]
On April 24, 2008, John Shedletsky has posted a blog post publicizing plenty of features on Roblox, most notably full-body shirts and pants in the past two weeks.[2]
Template Gallery
Templates are tools that create the basic layout of clothing and help guide creators in designing their clothing.
Trivia
This section is a trivia section. Please relocate any relevant information into other sections of the article.
For unknown reasons, there are still several pants that are currently free in the catalog created by users instead of Roblox. Plenty of other free pants were gone off-sale and/or content deleted, but some of them remain for free to buy to this day. Here are all the free pants not created by Roblox which are still for sale:
See also
References
Community content is available under
CC-BY-SA
unless otherwise noted.