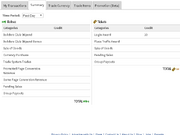 Pending Sales is an effort by Roblox to prevent trade scamming and the fraudulent purchasing of user-created items involving Robux. It was officially released on September 2018[1] and can be found under the Summary tab.
When a user makes a purchase on an item, the seller(s) must wait three days to receive the buyer's Robux. It was pushed as a security measure, and the three day wait time follows that of game passes and other developer products.
Also, if you bought your shirt around Christmas 2019, your pending sales are broken. Roblox is having a bug with this and many developers are reporting it too. https://devforum.roblox.com/t/pending-sales-are-not-passing/420505
References
Community content is available under
CC-BY-SA
unless otherwise noted.