m

m

(21 intermediate revisions by one other user not shown)
Line 1:
Line 1:
 
+

[[File:Summary.png|thumb|Pending sales can be found under the Summary tab.]]

 
+

'''Pending sales''' is an effort to avoid commercial [[scam]]s and fraudulent purchases of user-created items involving [[Robux]]. It was officially released in September 2018<ref>https://devforum.roblox.com/t/updated-pending-sales-for-t-shirts-shirts-pants/176236</ref> and can be found under the Summary tab.

 
 
 
+

When a user makes a purchase of an item, the seller must wait three days to receive the buyer's Robux. It was promoted as a security measure, and the three-day wait time follows that of [[game pass]]es and other [[developer product]]s.

 
 
 
+

==References==

−
 
 
+

<references />

−

=='''Pending Sales'''==

 
 
+

[[Category:Robux]]

−
 
 
+

[[Category:Features]]

−

What are Pending Sales? Pending Sales are an effort by ROBLOX to prevent trade scamming involving ROBUX. When purchasing an item, the creator must wait 3 days to earn they're ROBUX. They were officially released in September. The official devforum can be found [https://devforum.roblox.com/t/updated-pending-sales-for-t-shirts-shirts-pants/176236/11 here!] [[File:Summary.png|thumb|As you see, pending sales can be found under the Summary tab.]]

 
---
Revision as of 23:20, 28 April 2020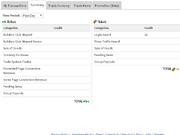 Pending sales is an effort to avoid commercial scams and fraudulent purchases of user-created items involving Robux. It was officially released in September 2018[1] and can be found under the Summary tab.
When a user makes a purchase of an item, the seller must wait three days to receive the buyer's Robux. It was promoted as a security measure, and the three-day wait time follows that of game passes and other developer products.
References
Community content is available under
CC-BY-SA
unless otherwise noted.