The information on this page is outdated and needs to be updated.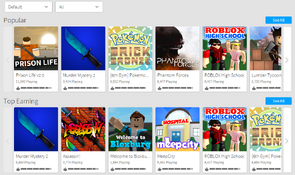 A place is the Roblox term to describe a game that has been created by a player and posted to Roblox and is one of the core components that make up Roblox. Places were released in June 2006 by Shedletsky.
Categories
All public places can be accessed from the "Games" tab on the main page of Roblox and can be filtered by tweaking the different filter options (listed below):
Default
Popular
Top Earning
Top Rated
Featured
Recommended
Top Favorite
My Recent
My Favorite
Purchased
Friend Activity
Top Paid
Popular in VR
Genres
This feature still exists, but is unable to be used to find a specific place.
All places are classified by their genre, which can be set by the creator of the place in its configuration menu, to help people find a specific sort of place. Genres can be set by the creator to determine what types of personal gear players may bring into the place - depending on the creator's place preference configuration, players may or may not be allowed to bring gear that doesn't correspond with the place's genre. There are multiple genres that can be used to help you find different places:
A Skate Park genre had existed for a certain amount of time due to the massive increase in skate-park places during the DisneyXD-sponsored Skate-park Contest. However, after the contest, the amount of skate-park places fell dramatically, and, as such the Skate Park genre is now hidden but still can be accessed by going to https://www.roblox.com/games?SortFilter=default&TimeFilter=0&GenreFilter=18, but since the removal of genres on the games page, it will not sort the games page for the genre you selected.
Making a place
Creating a Place
In order to create a place, go to the "Create" page on the Roblox website (this requires that you be logged in). This page houses a list displaying all the places and items you currently own (these are in separate sections, which can be browsed through via the list menu on the left) but also allows you to create new places and items (players that do not have a Builder's Club membership may only create T-Shirts, Places, Decals, and Models). To create a place, click on the "Create New Place" button and select a template.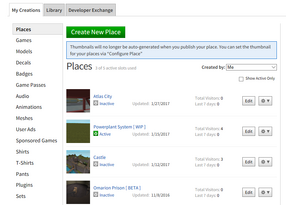 Editing the Place
To edit the place itself, first make it public by clicking on the power symbol under its name which should say "Private"; this will allow players to access it publicly.  Then, click on the "Edit" button. A new window will open with your place in it. You are now in Roblox Studio. If you are new to Roblox Studio, there will be simple tutorials on how to move around the site.
All users may have a maximum of 200 places active at one time as of September 27, 2016 (as announced on the developer forums). Note that you are only able to have a certain amount of places active at the same time.
Accessing the Advanced Building GUI
The advanced building GUI, or most known as Roblox Studio, grants greater versatility to the user and can be used to make better creations, though it takes more practice to use effectively. To open up the advanced building GUI on your desktop, use the Roblox Studio application instead of using your browser to launch the place.
Configuring the Place
To configure a place, simply select the gear icon on the right side of your place's entry, then select "Configure Place" from the drop-down box. Configuring a place allows you to:
Game Playability
By default, a place is created in Experimental Mode, which indicates that FilteringEnabled is not on. Places active and in Experimental Mode may not be searched by accounts with an age under 13, however they can still play the game, just not search for it. A bypass to this can be using a search engine to find the place.
Templates
The user can choose to start building on one of 16 starting templates: * Indicates that the template includes instructions and hints for designing the game
All templates can be viewed on this profile.
Old Templates
Trivia
This section is a trivia section. Please relocate any relevant information into other sections of the article.