For the game created by Games, see Community:Games/ROBLOX Battle.
For the game created by Nexus Development, see Nexus Development/Roblox Battle (2018 Edition).
RB Battles Championship (also known as Roblox Battles) is an event that began on September 9, 2019 and ended on September 28, 2019. It was a YouTube-based tournament centered around 16 different popular Youtubers who went head-to-head on different games, with a bracket to determine the order of which they do so. The winner of the tournament, KreekCraft, received the exclusive Champion's Swordpack along with a grand prize of 1,000,000 Robux.
Users could have voted for a star creator who they think would win the tournament. If users voted for the winner correctly, they would receive the Shield of Wisdom as a prize on October 1, 2019. Voting ended September 9, 2019.
There is an official YouTube channel for the event, where users can watch the event.
Participants
Tournaments
First Round
Semi-Finals
Finals
BriannaPlayz vs. SeeDeng vs. KreekCraft vs. Tofuu: KreekCraft
Videos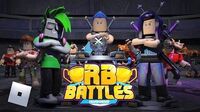 Games
Prize
| Name | Image | Objective |
| --- | --- | --- |
| Shield of Wisdom | | Enter your Roblox profile onto the survey section of the event page and select the YouTuber who you would predicted that would win the overall tournament. If you chose the right user, you would've been awarded with this prize on October 1, 2019. |
Grand Prize
| Name | Image | Objective |
| --- | --- | --- |
| Champion's Swordpack | | Become the overall final winner of the RB Battles tournament. This item was eventually awarded to KreekCraft. |
Catalog Item
Trivia
This section is a trivia section. Please relocate any relevant information into other sections of the article.
This is the second event (the first being the Stranger Things 3 event) to be available to exclusively 13+ users, as going to the event's page under a <13 account would have redirected the viewer to the homepage. The event was also not shown on the "Events" section of the website's sidebar for <13 accounts.
The championship video won a Bloxy during the 7th Annual Bloxy Awards for Best Video of the Year.
Community content is available under
CC-BY-SA
unless otherwise noted.