Fire Emblem Warriors: Three Hopes - The Loop
Play Sound

ROBLOX University 2014 was an event held by Roblox Corporation throughout September 2014. In this event, users had the option to watch two different tutorial series that would ultimately result in the user learning how to design that type of experience. UristMcSparks and Stickmasterluke guided users throughout the tutorial series. The tutorials focused on creating either a racing place (ROBLOX Racing) or a social murder mystery place (The Mad Bloxxer). After watching the appropriate tutorial, users would then take a set of quizzes in an experience to test their comprehension of the material, and prizes were distributed to the users that have successfully completes all four quizzes for each tutorial series. 
Experience
Prizes
| Name | Image | Objective |
| --- | --- | --- |
| ROBLOX U Hood | | Players had to complete all four of The Mad Bloxxer quizzes to get this item. |
| ROBLOX U Racing Helm | | Players had to complete all four of the ROBLOX Racing quizzes to get this item. |
Catalog Items
| Name | Image | Price |
| --- | --- | --- |
| ROBLOX U Handbook | | 100 Robux |
| ROBLOX U Baseball Cap | | 10 Tix |
| ROBLOX U Top Hat | | 1,000 Robux |
| ROBLOX U Headphones | | 300 Robux |
| ROBLOX U Frisbee | | 100 Robux |
| ROBLOX U Moped | | 625 Robux |
| ROBLOX University Tee-Shirt | | 1 Ticket |
Cheaters
During the event, some users would cheat by finding answers on the web, instead of watching the videos and taking the tests fairly. This, however, was a disadvantage for them, as they did not learn anything new.
Playlist
After the event, the Roblox team did not change the settings of the tutorial videos to Public. This means that anybody that does not have the link to the playlist can not watch the videos after the event. Although, the link can be found right here. The videos are still very informative and the scripting still works today.
Trivia
This section is a trivia section. Please relocate any relevant information into other sections of the article.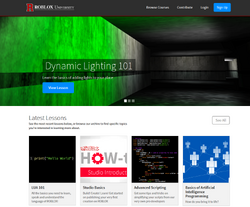 Links