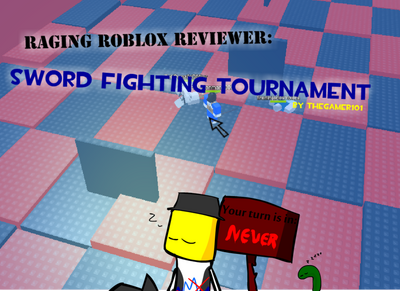 Raging ROBLOX Reviewer is a satirical video series made by XiaoXiaoMan. In the show, XiaoXiaoMan rates games (mainly front page games) later deemed to be terrible, with the exception of Reason 2 Die, Welcome to the Town of Robloxia and Work at a Pizza Place. In these reviews, he often swears and while the show is satirical, many feel that it presents valid points as a critical opinion of places. The title cards are created by the famous artist Patacorow and have been in usage for a large portion of the series. Raging ROBLOX Reviewer is based on The Angry Video Game Nerd; an external show that is not related to ROBLOX.
Start of the series
Before the host started watching AVGN, he first stumbled upon the Irate Gamer. At the time, he had never seen any of AVGN's videos. At the time, XiaoXiaoMan thought they were funny, but that was until he started watching AVGN. Soon, he stopped watching IG. Knowing how there were so many games on ROBLOX to talk about, he decided to make a series based on that show, thus, Raging Roblox Reviewer was born.
XiaoXiaoMan's first review was PlaceRebuilder's Reason 2 Die, which he found to be one of the best places on the front page. People liked the review, but the host still thought and thinks today it wasn't the best way to start the series. So, he compensated for this with another review. The review was very popular. From then on, XiaoXiaoMan continued looking for bad places to review. By reviewing bad places, XiaoXiaoMan found that keeping to the "Raging" aspect of his reviews was a lot easier.
Episodes
| Episode | Place | Date | Description | Video Views |
| --- | --- | --- | --- | --- |
| 1 | | 3/12/2010 | It's not just another zombie fight game! | 50,000+ |
| 2 | | 3/29/2010 | This game just has --- written all over it. | 55,000+ |
| 3 | | 4/9/2010 | I went insane after 5 minutes. | 46,000+ |
| 4 | Robloxian High School | 5/20/2010 | High school all over again, crawling with online daters. | 39,000+ |
| 5 | | 8/1/2010 | So horrible I couldn't fit the review into 10 minutes. Was it really that bad? Yes. | 60,000+ |
| 6 | | 9/29/2010 | Roleplaying and ROBLOX don't mix. | 49,000+ |
| 7 | | 2/8/2011 | Is this a tournament or a lobby? | 48,000+ |
| 8 | | 7/20/2011 | There's a hidden 91st disaster: visit this god-awful excuse of a place. | 59,000+ |
| 9 | Welcome to the Town of Robloxia | 3/27/2013 | Now in glorious Roleplay-Vision! | 13200+ |
| 10 | | 12/30/2020 | Is a game about a job as fun as Dued1 makes it out to be? It only took seven years to answer that question! | 1000+ |
Other Episodes
Episode

Place
Date
Description
Video Views
???




3/17/2011

(Released

4/5/2013)

Last night, I decided to take a look inside the folder and realized the first round of voice work was still there. I thought it would be a fun entry for the archive. I always wanted to leak unused content and deleted scenes.

By the time I was ready to visit the place, I was never able to find it because her0z was banned at the time. The voice work for the R.U.N. review would sit in a folder on my desktop called "RRR Stuff" for about two years. I never visited the place, and the review never made it into the editing phase. In short, I abandoned the project.

n/a
Trivia
This section is a trivia section. Please relocate any relevant information into other sections of the article.
The videos are aimed at an older audience due to most of the swearing.
His review of Club Christy caused a massive argument between Christy and XiaoXiaoMan, which included several video responses.
All of the videos combined have over 390,000 views.
XiaoXiaoMan's review of Survive the disasters is currently the most popular video thus far in the series.
With the exception of Reason 2 Die, Welcome to the Town of Robloxia and Work at a Pizza Place, all of the places that XiaoXiaoMan has reviewed in his videos have received negative reviews.
Community content is available under
CC-BY-SA
unless otherwise noted.