New Pokemon Games - The Loop
Play Sound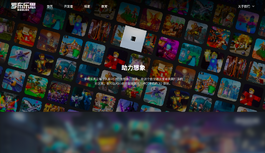 Roblox China is Mainland Chinese's version of Roblox (Simplified Chinese: 罗布乐思 Luóbùlèsī; officially shortened to LuoBu). LuoBu was released as a mobile app for iOS and Android on July 13, 2021, alongside the official release of the Nezha Obby Event.[1] A Chinese version of Roblox Studio was downloadable prior to this.
According to Roblox's Chinese website, the release of the platform will focus heavily on collaborations with schools and educators, and it is touted as a potential educational tool for science, technology, engineering and mathematics (STEM) students.[2]
Roblox owns an account on Bilibili, a Chinese video-sharing website similar to YouTube. Development live-streams and contests are hosted on the account.[3]
Features
When a Roblox player outside of Mainland China attempts to join a Chinese Roblox server, they will get Error Code 524 (You do not have permission to join this experience).
Chinese Roblox players get a username formatted as "Robloxian" followed by 9 random lowercase letters and numbers, as seen in various videos featured on the LuoBu platform.[4] These usernames do not show up in Player search results.
Players may change their display name to Chinese text in LuoBu.
Roblox China has their own Developer Forum, which essentially is the English version with fewer features.[5]
Robux are unable to be spent in the Avatar Shop. As such, Robux on LuoBu can only be used to purchase Game passes and Developer Products.

History
Background and founding
The partnership with Tencent, that began in 2019, is centered on a joint venture in which Roblox owns a 51 percent controlling stake and Songhua, a Tencent affiliate, owns a 49 percent stake. According to the prospectus, Tencent currently intends to publish and operate a localized version of the Roblox Platform, LuoBu. Internationally, the platform allows users to create their own games as well as play those created by others.[6][7][7][8]
According to the two analysts, because Tencent has a large backlog of games awaiting release, Roblox China remained optimistic about the gaming platform's potential in China. "In a scenario where Roblox China achieves 10 million daily active users in its first year with average bookings per user in line with its global average, net bookings from China could eclipse US$500 million" they wrote.[2]
The game's approval for release in China comes on the heels of Roblox's filing for an IPO in the United States. It aims to raise $1 billion and is expected to go public later this month.[8]
Roblox's popularity among young gamers is due in part to user-generated content, but that social aspect almost certainly makes its entry into China more difficult. It is widely assumed that the Chinese government is asserting greater control over what is published on the internet, and its scrutiny of gaming content has recently increased. Wenfeng Yang, an industry veteran, speculated that games with user-generated content would "never made [their] path to China," citing Animal Crossing as an example.[6]
The educational version of Roblox was one of 42 approvals made by China's regulators, which is still working through a backlog after freezing approvals in 2018 ahead of restructuring its processes.[8] Roblox and Tencent, with China Association for Educational Technology (CAET), seeks for applications from creators aged 10 to 15. Teachers will be encouraged to nominate their students, who will be able to apply online at Roblox.com. The deadline for submissions is June 14, and scholarship recipients will be notified on June 28.[9] The first camp would take place the week of July 23, and the second will take place the week of August 18. Students will work, eat, and stay at Stanford during camp.[6][9]
"I'm extremely excited to partner with Roblox" said Steven Ma, senior vice president of Tencent, in a statement. "We believe technological advancement will help Chinese students learn by fueling their creativity and imagination. Our partnership with Roblox provides an engaging way to reach children of all ages across China to develop skills like coding, design, and entrepreneurship."[6][9]
"Tencent is the perfect partner for Roblox in China" added Roblox founder and CEO Dave Baszucki. "They have a deep understanding of the Chinese market and share our belief of the power of digital creation and our vision to bring the world together through play."[6][9]
Roblox believes it is "uniquely positioned" to expand its presence in China, but its "performance will be dependent on" Tencent's ability to overcome regulatory hurdles. It is unclear what steps Roblox will take to ensure that its user-generated content does not run afoul of Chinese authorities, whose appetite for what is permissible can be volatile. Tencent has been targeted by regulators for allegedly "addictive" and "harmful" gaming content. It also remains to be seen how Roblox ensures that whatever censorship system is implemented does not jeopardize the user experience.[6]
Compliance
At the most basic level, Roblox claims it works to ensure user safety through measures designed "to enforce real-world laws," including text-filtering, content moderation, automated systems to identify behaviors in violation of platform policies, and a review team. The company expresses in its filing optimism about getting China's regulatory greenlight:
"While Tencent is still working to obtain the required regulatory license to publish and operate Luobulesi [Roblox's local name] in China, we believe the regulatory requirements specific to China will be met. In the meantime, Luobu is working towards creating a robust developer community in China."
The company is rightfully optimistic. Tencent has a proven history of converting its social network users into gamers and publishing foreign games. Roblox's marketing focus on encouraging "creativity" could sit well with Beijing's call for tech companies to "do good," an order Tencent has answered. Roblox's Chinese website suggests it's touting part of its business as a learning and STEM tool and shows it's seeking collaborations with local schools and educators.[6]
"Roblox is aimed at a younger audience and the majority of its content will not be an issue in China," said games analyst from Niko Partners Daniel Ahmad to TechCrunch. "However, we do see some risk from its user-generated content features which can be used in ways that Chinese regulators may disapprove."[6]
There might be an easier path into China. Yang, who is the U.S. general manager for China-listed games maker Yoozoo, told TechCrunch that "Roblox China may only introduce the platform to Chinese developers, asking them to join and make content for the global market, not necessarily bringing the platform to China under such heavy regulations."[6]
Foreign games overall are having a more difficult time entering China, In 2019 there were 185 foreign games approved for release in the country, but that there have only been 56 foreign games approved year to date, Ahmad noted.[6]
"Opening of LuoBu's "Endless Worlds" event
On June 7, 2021, a call was made on the LuoBu Developer Forum for experiences willing to add provided decoration assets to celebrate the opening of LuoBu. There was also an additional competition for certain games to be featured upon the release of LuoBu for incorporating said assets as part of the "Opening of LuoBu's Endless Worlds" event (Simplified Chinese: 开启罗布乐思无限世界 Kāiqǐ Luóbùlèsī wúxiàn shìjiè).
Games using these assets were later featured on a news post and incorporated into a highlighted sort.[10] The Nezha's Devil Boy Descends Into The World event also was part of the Opening event.
Between July 13, 2021, and August 3, 2021 (UTC+8), weekly waves of celebration accessories were released in the Avatar Shop to promote the release of LuoBu, available for both LuoBu and Roblox users.[11] They had specific themes each week. Week 1 had "Party" accessories, Week 2 included "Explorer/Science" accessories, and Week 3 had "Chinese/Traditional" accessories.
Gallery
Trivia
This section is a trivia section. Please relocate any relevant information into other sections of the article.
Around July 21, 2021, non-LuoBu users that had logged into LuoBu QQ Studio ("LuoBu Editor") within a few weeks before had their accounts converted to "hybrid" Roblox-LuoBu accounts. This voided all of their Robux, disabled adding friends, and prevented them from joining groups. On July 22, 2021 (though attributed to July 29, 2021), Roblox blocked all non-China IPs from logging into LuoBu or LuoBu QQ Studio ("LuoBu Editor"), preventing any further accounts from being affected. A few weeks later, all affected accounts were reverted into normal accounts and their Robux restored. While Roblox never made a statement on this matter, the staff of the LuoBu Devforum made an announcement presumably related to the incident.[12]
On July 31, 2021, an oversight was revealed that allowed non-LuoBu users to have Chinese characters in their display names without turning their accounts into hybrid accounts. It involved using the Arkose Labs and LuoBu APIs to log into roblox.qq.com and add Chinese characters to one's display name there, then logging out of roblox.qq.com; the display name change would take effect on the international version of Roblox, and the user's account would remain unrestricted. Around August 18, 2021, the authentication API was updated, and the oversight was ultimately patched, with users now getting "400 Bad Request" errors when attempting to use this method. Additionally, only LuoBu users with verified real names can have Chinese characters in their display names now. However, users who changed their display names to have Chinese characters before the patch have kept their display names, even on international Roblox.[13][14][15]
References
External links