The
Roblox Developer
App was a mobile app released on the iOS App Store on September 24, 2014. The app allows you to pair your device to
Roblox Studio
so you can use it as a testing device when using
Server-Client mode
.
Roblox had stated in their monthly BLOXcast of September that an Android version would be available when "they nail the iOS version first".
The app has since been removed from the app store for not being functional and confusing new users.[1]
Menu Overview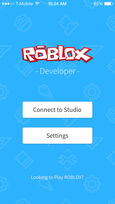 When you start the app, there is some text at the bottom of the screen which asks the user, "Looking to play Roblox?". There are 2 main buttons to choose from in the app, these buttons are:
Connect to Studio - Connects the device to Roblox Studio as a client. You must pair the device in Settings and start a server using Server-Client mode before the device can connect to Studio.
Settings - Allows you to choose what stats to display when testing and allows you to pair your device to Roblox Studio using a 4-digit pin given in the Roblox Studio window on your computer. The section below goes into detail of each setting in the menu.
Settings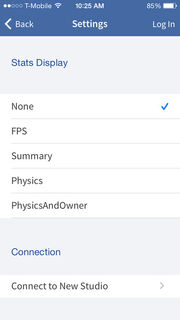 The settings screen has limited options to choose from, contained in two categories: Stats display and connection. The settings are shown below.
Stats Display
None - The default display of stats. Shows nothing and makes the experience of testing the same as playing a game normally on Roblox Mobile.
FPS - Shows the amount of FPS the device is playing the game at.
Summary - Shows a summary of some stats.
Physics - Shows the stats of the physics in the current game.
PhysicsAndOwner - Unknown
Connection
Connect to New Studio - Guides you through pairing your device to Roblox Studio so you can use the Connect to Studio button on the main menu.
References
Community content is available under
CC-BY-SA
unless otherwise noted.