Raise a Floppa - The Loop
Play Sound
Roblox Grand Melee was a contest that took place from August 17, 2007, to August 26, 2007. There was a total of three rounds, all being hosted throughout three games which were placed under the GrandMelee account, an account specially created for this event. The event was hosted by Telamon and clockwork. Players were ranked based on the K/D Ratio, or kills divided by deaths. Only KOs and Wipeouts from the three games counted towards the event. KOs and Wipeouts obtained in these games saved regardless of how many times the players left and rejoined.
On August 28, 2007, four winners were announced on the Roblox blog, who each received Builder's Club, The Kleos Aphthiton, and Robux as a prize. Along with this, first place received the Black Iron Crown of Pwnage, both first and second received a hat of their choice from the avatar shop, third place received 1,000 Tickets, and both third and fourth received 500 Robux.
A video contest, the Sportscaster Video Contest, was also held, where any of the spectators could record the finals. The user with the best video won a bonus of 500 Robux.
Rounds
Round 1
Round 1 took place at an Empty Baseplate. 50 KOs are required to continue to the next round. On August 17, 2007, the top 64 people (highest K/D Ratio) advanced to round 2.
Top 64
Round 2
Round 2 also took place at an empty Baseplate. 25 KOs are required to continue to the next round. On August 20, 2007, 48 users were eliminated, leaving only 16 remaining.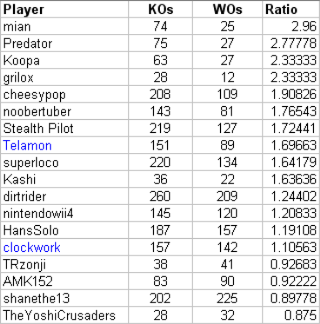 Finals

The finals took place at the Grand Melee colosseum. Out of the remaining 16 users, 12 were eliminated, leaving the last 4 to earn prizes based on the highest K/D ratio.
Winners