Roblox Mobile, also known as the names Roblox iOS and Roblox Android, is the mobile application version of the game available to iOS devices (iOS 8 or higher), Amazon Kindle devices, and the recent Android devices (Android Lollipop 5.0 or later). It was beta-tested sometime during 2011[1] for the iOS version. It was released and out of beta on December 11, 2012. [2] It was released in mid-2014 for Android and Kindle. Games became available for iOS in November 2012. The application allows purchasing in-game items from the avatar shop and, on the iOS and Android versions, enables access to purchase Android-exclusive/iOS-exclusive items, which are typically paid with Google Play Credit/iTunes money, viewing the player's inventory, friends, groups, and messages, purchasing Robux and/or Premium memberships with iTunes money, and features a fully-functional 3D client.
Comparison of Roblox mobile and desktop versions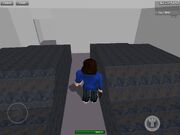 The mobile graphics are very similar to the 2-3 levels on the graphics scale since material textures and dynamic lighting are removed, but still, decals, day/night skyboxes and custom skyboxes exist. This is to limit lag (thus possible risks of crashing) on mobile devices, which are weaker than PCs. On mobile devices, the game will not run at full resolution, regardless of the device; instead, it will run at quarter resolution with 4x MSAA (multisample anti-aliasing) to reduce stress on the graphics processor.
If a (usually high quality) game has many models, a large and complex map, and/or anything that can increase lag on a mobile device, a warning is put up on the game's page. To allow players to easily access games that load fine on mobile, the game page is formatted to mostly display games with such trait.
Supported/Unsupported Platforms
iPhone
iPhone 12 Pro Max (Excellent)
iPhone 12 Pro (Excellent)
iPhone 12 Mini (Great)
iPhone 12 (Great)
iPhone SE 2 (Great)
iPhone 11 Pro Max (Great)
iPhone 11 Pro (Great)
iPhone 11 (Great)
iPhone XR (Great)
iPhone Xs Max (Great)
iPhone Xs (Great)
iPhone X (Great)
iPhone 8 Plus (Very Good)
iPhone 8 (Very Good)
iPhone 7 Plus (Good)
iPhone 7 (Good)
iPhone SE See below
iPhone 6S plus - See below
iPhone 6S - Some lag spikes but not enough to ruin the game, should play on lower graphics
iPhone 6 Plus - See below
iPhone 6 - Struggles by a lot (Again is pretty much just an iPhone 5s but with a bigger display)
iPhone 5S - Struggles by a lot
iPhone 5C - (Is pretty much just a repackaged iPhone 5)
iPhone 5 - Struggles and is prone to crashing.
iPhone 4S - Will fail to load moderately intensive games like Jailbreak. Near unplayable on games it can load due to old hardware and lack of RAM. Extremely prone to crashing if it can load. A majority of simple games run smoothly.
iPhone 4 - Roblox no longer works on the iPhone 4 due to old hardware and being stuck on iOS 7. Before they removed it could be played normally. Lag spikes were apparent from the beginning.
iPhone 3GS - Roblox was able to run on here. You were able to play games, but the lag spikes made all the games unplayable.

iPad
iPad Pro 9.7 (Excellent)
iPad Pro (Excellent)
Other than these, all iPad Pro models work great.
iPad Air 2 (Very Good)
iPad Air (Very Good)

iPad mini 2 (Most games no longer run smoothly or work on this device)
iPad mini (Good)
iPad 2018 (Excellent)
iPad 2017 (Great)
iPad 4 (a tiny amount of games are unable to run, a bit laggy.)
iPad 3 (Runs like the iPad 2)
iPad 2 (Many modern games are unable to run, but simple games run smoothly.)
iPad (Now outdated, you could do anything, but games were unplayable due to lag spikes.)
iPad Mini 4 (Excellent)
iPod
iPod Touch 3G (Now outdated, you could do anything but play games.)
iPod Touch 4G (Now outdated, you could do anything but play games.)
iPod Touch 5G (some games are unable to run, untested)
iPod Touch 6G (Very good)
iPod Touch 7G (Excellent)
Samsung Galaxy Grand Prime (Okay)
Samsung Galaxy S5 (Now outdated on older models, Performs Good on Android 5.0 or later devices)
Samsung Galaxy J7 2018 (Excellent)
Current devices with version 4.4.0 or later, should not be running the Tegra 2 chipset, and have a ARMv7 processor.
Kindle Fire HDX 7 (3rd Gen)
Kindle Fire HDX 8.9 (3rd Gen)
Fire Phone
Fire HD 6 (4th Gen)
Fire HD 7 (4th Gen)
Fire HDX 8.9 (4th Gen)
Glitches and bugs
The old "Roblox is under maintenance" HTML is sometimes present in the Roblox Mobile with the new UI. It also does this bug on the old Roblox with the old UI.
Sometimes the jump button doesn't appear.
There was a rare glitch where the jump button became "stuck", preventing a player from jumping unless they reset or open the menu. This has not been fixed yet.
There was a bug where the player could zoom out through everything.
On some games, there is a bug where the move and jump buttons disappear, so the player is unable to move which will need the player to rejoin the game to fix it. This has been fixed recently.
Often, the Movement and Camera Mode wouldn't change when changed in settings.
There is a bug where the player could get logged out of their account.
Often, the Chat page won't load up. This has been fixed.
A bug when selected Tap to Move, then tap anywhere to move, and unselected Tap to Move by select different mode. This will cause the player to move every time they tap despite Tap to Move mode is not selected. The player needs to rejoin to fix this.
One bug is when the player logs out of their account, the player tries to sign back in, the human verification window won't load up. This can also happen when you're chatting in a group or commenting on t-shirts, pants, shirts, or models.
Criticism
The mobile app is often criticized for its tendency to drain the battery life of the player's device. It is also criticized due to its glitchiness and tendency to make the player's device heat up rapidly. Until 2016, Roblox Mobile sometimes had ads after you respawn on the map. It is also criticized for the small size of the controls on the phone. Mobile also discourages players from participating in the community, as typing is harder, and by lowering the barrier of entry to Roblox, many young players who are bad at games joined the platform, arguably causing some older players to quit. Also, some games and gears can not be used on mobile because they require the player to press a certain key on their keyboard, while mobile devices do not have keyboards.
Trivia
This section is a trivia section. Please relocate any relevant information into other sections of the article.
When the app first was released, it was rated 4+ in the App Store and E10+ in Google Play (similar to ESRB ratings). It was somewhat raised to 7+ in 2015, then in 2016, this rating was raised to 12+, presumably due to players making inappropriate games which either contain violence or brief nudity.
The guest mode feature on the mobile website was not deleted for a while after the removal.
The Roblox app was released in 2011 for iOS users 4.0 and up. This means that many other iOS devices could be supported at the time being.
Roblox used to support Android 4.4 (KitKat) but stopped support
External links