Raise a Floppa - The Loop
Play Sound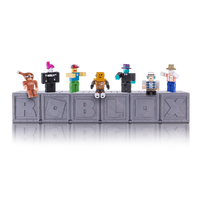 Roblox toys are physical real life small collectible mini-figures and playsets based on various notable characters, users, games and other elements of the Roblox universe. They are made by the company Jazwares. Each toy comes with a unique code which can be redeemed for a special exclusive Avatar Shop item that corresponds with the toy. Each figurine has an extremely rare chance of getting two codes, one being the normal code the other being a bonus "chaser" code.
Players can buy the toys from different shops and locations, such as Walmart, Target (US), Amazon, etc. Jazwares also has a website that lists the different Roblox collections and figurines available, houses the code redemption platform, and lists where players can purchase the toys.
Each Roblox toy has the capability of having their parts mixed with other Roblox toys. Most toys' arms are R6-like, while the legs have knees similar to R15 characters. Users wishing to mimic the motion of the Roblox toys on their own avatar frequently use the Toy Animation Pack.
Though the toys were received with overall positive reception, users criticized it saying that they resembled too much like Lego figurines. Some accessories and figurines also have Roblox's old "R" logo on them instead of the newer square version. More specifically the older ones.
History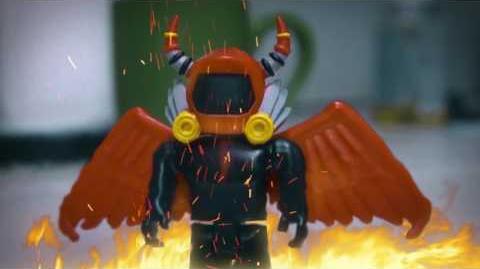 Roblox's partnership with Jazwares and the first installation of the Roblox toy series were first announced in a February 1, 2017, blog post by Roblox CEO David Baszucki.[1] It was announced that the first series will have 40 notable Robloxians, such as builderman, Stickmasterluke, Mr. Bling Bling, and Circuit Breaker. Roblox High School and Work at a Pizza Place game packs were also announced and shown-off. Shortly after the announcement, videos were released onto YouTube advertising all the toys in the first series.
The second series and an interactive checklist on the Jazwares website were announced in a blog post on August 16, 2017.[2] 40 more toys were released for a grand total of 80 figurines. In the blog post, they also noted the success of the first Roblox toy series:
In just the first week alone, tens of thousands of collectible figures made their way into the hands of Roblox super-fans and then rapidly sold out in the days that followed. The enthusiasm spread like wildfire, even on YouTube! Dozens upon dozens of unboxing videos premiered and continue to premiere, even to this day. We also joined forces with our toy licensing partner, Jazwares, to produce a series of fun stop-motion animated videos to help power the imaginations of even more Robloxians across the globe. With a unique line of iconic characters and experiences from the world of Roblox, we're thrilled that these toys are loved and appreciated by so many people everywhere.

Roblox Blog
In January 2017, Jazwares, a toy fabricator, teamed up with the Roblox Corporation to produce toy minifigures based on user-generated content created by large developers on the platform. The minifigures have limbs and joints similar to that of Lego minifigures. The minifigures also have limbs and accessories that are interchangeable. All of the sets include a code that can be used to redeem virtual items. There are also blind boxes that contain random minifigures and have a chance to contain a mystery figure.

Wikipedia
The third series, the Celebrity Collection, was announced in a blog post on November 28, 2017.[3] It is a Walmart-exclusive collection, with Jazwares also hosting two launch events at Walmarts in Florida and Tennessee shortly after the official release.
Categories
Figurines
Collections
Action Collection Wave
Celebrity Collection Wave
Imagination Collection Wave
Other
Plushies
Series 1
Video
Promotional content
Trivia
This section is a trivia section. Please relocate any relevant information into other sections of the article.
References
External links