Information


Robux (formerly R$) is the universal and only currency on Roblox. Robux was introduced on May 14, 2007 as a replacement of ROBLOX Points. Robux was one of two currencies on the platform alongside Tix, which was removed on April 14, 2016.
Robux is known as Roblox's primary currency by the community and staff; all paid items within the avatar shop are sold for Robux, including user-created content such as microtransactions and game passes. The name 'Robux' is a portmanteau of Roblox and bucks.
On November 21, 2019, the Robux icon was replaced from the R$ symbol to a more generic hexagon shape. The R$ abbreviation's usage was discouraged by Roblox after the icon replacement, most likely because an actual currency, the Brazilian Real, uses the same abbreviation.
Earning Robux
Roblox Premium
Roblox Premium provides members with an amount of Robux each month depending on the membership they purchased. Instead of being spread out like Builders Club, each tier is named after how much monthly Robux is given;
Roblox Premium 450 ($4.99/month)
Roblox Premium 1,000 ($9.99/month)
Roblox Premium 2,200 ($19.99/month)
Benefits
Purchasing Premium has many benefits;
10% more Robux when purchasing
The ability to sell items including limited items (and clothing for some users)
Decreased prices for some UGC items only available with Roblox Premium
Ability to purchase Roblox Premium exclusive UGC items
Access to the Trade System
Benefits in some games optionally added by developers; officially referred to as Premium Benefits
Premium Payouts
All users can earn Robux through Premium Payouts if Premium subscribers are playing their game. The amount given depends on how many people play the game and for how long.
Sale of Goods
All users can sell developer products and game passes to earn a 70% profit after marketplace fees are deducted. Users can also sell Shirts, Pants, and T-Shirts for a 5 Robux fee. Premium subscribers can list their limited items and plugins for sale.
Group Funds
A group can sell items on Roblox, however, all Robux earned is deposited into the group's Group Funds which can then be distributed among members. Group funds can only be given out by the owner of the group.
Trading
Only Premium subscribers (and Builders Club subscribers before it was replaced) can trade limited items and Robux with other users.
Former methods
All users earned 10 Tix daily as a log-in reward and 1 Ticket per place visit.[1]
Prior to August 2019, Builders Club, Turbo Builders Club and Outrageous Builders Club subscribers also received a daily Robux stipend:
Builders Club members earned 15 (19 cents USD) (formerly 5 (6 cents USD) before late 2016) Robux per day.
Turbo Builders Club members earned 35 (44 cents USD) Robux per day.
Outrageous Builders Club members earned 60 (75 cents USD) Robux per day.
Users could also convert Tix into Robux using the trade menu. 10 Tix was equal to 1 Robux.
Users located in the United States with a valid phone number could have claimed 100 Robux through a free redeem code by creating a Microsoft account on December 28, 2020.[2] However, this was discontinued a day later due to its high popularity which caused Microsoft to run out of Robux redeem codes.[3]

The offer was later reintroduced on January 12, 2021. This offer required users to attain 1,500 Microsoft Reward Points to claim a redeem code for 100 Robux, 3,000 Reward Points for 200 Robux, and 6,000 Reward Points for 400 Robux.[4] A day later, the 200 and 400 Robux options were removed for unknown reasons, leaving only the 100 Robux option available.[5] The offer ended on January 15, 2021.
The offer was reintroduced again on February 9, 2021. This offer initially had the same requirements as the prior offer in January.[6] On February 18, 2021, two more options were added, which required users to attain 12,000 Reward Points to claim a redeem code for 800 Robux, and 15,000 Reward Points for 1,000 Robux.[7]
Purchasing Robux
Roblox released the ability to purchase Robux through its website on September 26, 2008, alongside the Guest feature.[8] The ability to purchase Robux through the Roblox Mobile App was released on December 11, 2012.[9] Robux can also be purchased through a Roblox card, which can be purchased at many stores worldwide physically and online. Users with an active Premium membership will receive an additional Robux bonus if they purchase Robux. Users who did not own a credit card could use Rixty, which allowed them to purchase gift cards and use Coinstar machines to change the spare change into Robux. However, this option is not available anymore.
Robux prices
For users located outside of the United States, prices are displayed as their country's currency equivalents (however exchange rates are not fully taken into account by Roblox when buying directly from the website).
'Red X' marks indicate that the set amount of Robux given is no longer purchasable or there is no existing membership bonus. Users with Roblox Premium receive a 10% Robux purchase bonus.
| | Price (USD) | Price (GBP) | Price (EUR) | Membership Bonus | Available Platforms |
| --- | --- | --- | --- | --- | --- |
| 40 Robux | $0.49 | £0.49 | €0.44 | | (Previously on Roblox Mobile App) |
| 80 Robux | $0.99 | £0.71 | €0.82 | | Roblox Mobile App |
| 160 Robux | $1.99 | £1.57 | €1.80 | 20 Robux | (Previously on Roblox Website with Rixty) |
| 240 Robux | $2.99 | £2.36 | €2.70 | 30 Robux | (Previously on Roblox Website with Rixty) |
| 320 Robux | $3.99 | £3.14 | €3.60 | 40 Robux | (Previously on Roblox Website with Rixty) |
| 400 Robux | $4.99 | £4.59 | €4.99 | 40 Robux | Roblox Website, Roblox Mobile App |
| 800 Robux | $9.99 | £8.99 | €9.99 | 80 Robux | Roblox Website, Roblox Mobile App, Roblox Windows 10 App |
| 1,700 Robux | $19.99 | £18.49 | €20.99 | 170 Robux | Roblox Website, Roblox Mobile App |
| 2,000 Robux | $24.99 | £22.99 | €22.55 | 750 Robux | (Previously on Roblox Website) |
| 4,500 Robux | $49.99 | £46.49 | €49.99 | 450 Robux | Roblox Website, Roblox Mobile App |
| 10,000 Robux | $99.99 | £92.99 | €99.99 | 1,000 Robux | Roblox Website, Roblox Mobile App |
| 22,500 Robux  | $199.99 | £184.99 | €180.43 | 12,500 Robux | Roblox Console App (Previously on Roblox Website) |
| 75,000 Robux | $399.95 | £399.95 | €451.05 | 25,000 Robux | (Previously on Roblox Website) |
Spending Robux
There are many items and features users can spend Robux on.
For 100 Robux, users can create a group.

For 25 Robux, group owners can create a new rank for their group.
Before the new group layout, for 500 Robux, group owners could have created a clan for their group. Clans have since been removed.
Formerly, only Builders Club (replaced by Roblox Premium) members could create groups.

For 1,000 Robux, users can change their username.
Formerly, users could have spent 10 Robux to upload a photo thumbnail for their game. This paywall was removed in a later update.
For 500 Robux, users can upload a video thumbnail to their game.
For 100 Robux, users can create a badge for their game.
Users can bid on an advertisement for their games, clothing, groups, or models for a chosen amount of Robux. The value has to be a minimum of 5 Robux.
Users can pay to access certain games with varying prices set by the game developer.
Users can purchase items in the avatar shop for varying amounts of Robux from 0 to 999,999,999 Robux. Previously, Tix could have also been used to purchase these items (with the rate of 10 Tix to 1 Robux).
Users can purchase game passes and developer products for specific games at varying prices set by the game developer.
Users can upload an audio file to the Library, with costs ranging from 20 Robux to 350 Robux depending on the audio's length.
For 50 Robux, users can upload Shirts and Pants or put a T-Shirt on sale.
Exchanging Robux
Exchange Rate
The current exchange rate from Robux to USD is 0.35 USD cents per 1 Robux, and the amount of Robux able to be purchased per one USD cent is set at a base rate of 1.
Currency Exchange
With the November 2008 release of the Robux currency exchange, players were given the ability to exchange Tix into Robux and vice-versa.[10] Roblox's exchange rate was based on user demand and typically hovered around 1 Robux for about 20 Tickets for market orders. However, on April 14, 2016, the currency exchange was shut down following the removal of tickets.
Developer's Exchange
The Developer's Exchange (shortened as DevEx) was released on October 1, 2013. This feature allows developers who meet specific qualifications to exchange Robux into real-life currency on a monthly basis. In order to qualify for DevEx, users must have an active Premium subscription, be a community member in good standing, have earned over 100,000 Robux, a valid PayPal account, and be verified. Currently, developers earn $350 USD per 100,000 Robux exchanged through DevEx. The current exchange rate is 0.35 USD cents per 100 Robux.
Exchanging Credit
Since October 2019, leftover credit acquired from Roblox cards can be converted into Robux in the Billing tab under Settings on the Roblox website. The conversion uses the rate of 1 USD cent per 1 Robux.
Robux scams
Robux is most often acquired by directly purchasing it on the Roblox website because most players cannot earn it or do not earn enough via developer products or other goods to obtain the items they want on the platform. As a result of this, many players who have never spent any real life currency or have only spent a small amount on Roblox often resort to begging. There are also malicious users who attempt to scam users in order to take their Robux or other valuable assets (including the account itself).
Scam bots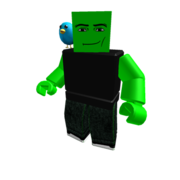 Scam bots are bots programmed by an individual or group seeking account access to gain personal information such as passwords or to take assets from the account. They are most commonly found in games and the comment sections of items. Scam games have also been created by bots in an attempt to convince users to provide the scammer with their account passwords. These often include a fake player list with Roblox staff on the list to trick users into believing the game is legitimate.
Scam bots have also been known to formerly use the official "/me" chat command in Roblox games to convince users that they received Robux from a scam website. Due to this, the /me command was disabled by default in all Roblox games on May 17, 2019.[11]
Robux value
The value of Robux has decreased significantly since its initial release. With 3,297 Robux, a Roblox blog article once declared Miked as the wealthiest Roblox player. Today, many users have much more than this without being considered as wealthy by the community. This is largely due to the fact that new Robux is generated every time a user earns a monthly stipend from their Premium membership or purchases it directly from Roblox, which in turn contributes to the currency's inflation as an ever-growing amount of players continue to desire goods or features that cost Robux.
Current theories about the dramatic shift in Robux value are embedded in the idea of supply and demand. Supply and demand are typically inversely related, and the balance of both establish the equilibrium price. For example, by selling most of their items in the avatar shop for Robux and incentivizing users to exchange Robux for real-life currency through the Developer's Exchange system, the demand for Robux has increased. This increase in demand compared to a minimal increase in the supply of Robux creates a deficit of Robux.
According to the Developer's Exchange system, 1 Robux is equal to 0.35 USD cents, while the official Robux purchase system and the leftover currency exchange system says 1 Robux is equal to 1 USD cents.
Purchase decreases
On July 12, 2019, the Builders Club bonus for each Robux purchase option was reduced to only 10% of the non-membership Robux, the $24.95 option replaced by a new $19.95 option for 1,700 Robux (1,870 with Builders Club) and the $199.95 option removed. It is speculated that this was in order to be able to pay developers more. However, many users were disappointed with this change as it means they will have to pay more real life currency to receive the same amount of Robux as before.
Icon replacement

Sometime in early 2019, an image of a new icon was found in the Roblox files. The file was named robux@2x.png. Many users began to speculate that Robux would be replaced with another currency, while others believed only the icon would change. Roblox accidentally leaked the new Robux icon at the RDC 2019 event, and in response to a question regarding whether Robux would be replaced with another currency entirely, they stated that it would remain as Robux.[12]
Later on, during November, the new icon was split into three colors: black, grey, and a yellow to gold gradient.[13] In the same month, it began to appear for random users as part of A/B testing. By the end of the month, it was enabled for all users.[14]
The new icon has received controversy from many users, some stating that the icon has no resemblance to Robux[15][16][17], while others believe that it looks like a lug nut rather than any form of currency. Only a few stated that it was for the better, because the old Robux icon may be confused with the real-world currency the Brazilian Real, which uses the symbol R$.[18]
Gallery
Trivia
This section is a trivia section. Please relocate any relevant information into other sections of the article.
Robux has been intertwined with meme culture as well. Memes based on a virtual currency typically mock Robux (as well as other in-game currencies, such as Fortnite's V-Bucks). It is used both inside and outside of Roblox culture due to its state as an iconic in-game currency.
On April 12, 2007, the first place winner team of the Paintball Tournament on Ultimate Paintball received free Builders Club and Robux.
In early 2021, Roblox partially rolled out[19] a clothing fee, requiring users to pay a 50 Robux fee to upload a Shirt, Pants, or make their T-Shirt go on-sale.
References
Community content is available under
CC-BY-SA
unless otherwise noted.