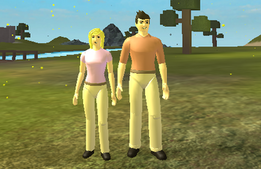 Rthro (previously known as Anthro) is an upcoming avatar type for Roblox, revealed during the Roblox Developers Conference 2017. It was named 'Anthro' because the definition of the word Anthropomorphic is given as the state of having human qualities or characteristics, however it was renamed to Rthro in October 2018. The original avatars were named Ken (male avatar) and Barb (female avatar) by Roblox, following a similar naming fashion to the male[1] and female[2] Barbie dolls.
These avatars stand out as being much more humanoid when compared to the traditional "blocky" appearance that is commonly associated with Roblox avatars. With more joints on the avatar than R6 and R15, animations are also more human-like. Existing catalog content, such as hats, shirts, and pants are expected to be compatible with this avatar. It would likely not fit in well with most games on the platform unless the developer updates their game in order to add support for this avatar type.
Revisions
Enhanced Avatar Scaling Options
On May 30, 2018, an announcement was made on the Roblox Developer Forum showcasing two new sliders for the Body Scale section in the Avatar editor, which led many to believe Anthro had released due to the ability to scale avatars to more realistic shapes. CloneTrooper1019 confirmed this as false on his Twitter, where he states that the scaling were what Anthro evolved into.
Unlocked Avatar Scaling Options
On October 15, 2018, another post was made to the DevForum explaining the next stage of Anthro in full detail, and also referred to it as 'Rthro'.[3]
Criticism
From the community
Many Roblox users have criticized the realism of Anthro. Many arguments suggest that adding a more realistic avatar would make Roblox strangely realistic and push it towards the uncanny valley due to conflicting with the current blocky appearance of avatars. Users have also expressed concern that Anthro will replace the more traditional R6 and R15 avatar types, however this has not been confirmed.
There are also fears that the new character style will not be compatible with certain hats and gears, and some also believe that Anthro will encourage online dating.
From influencers
At RDC 2017 and on the Dev Forum, multiple Roblox Developers commented on their dislike for Anthro and made jokes about it. Additionally, several Roblox YouTubers have heavily criticized it, claiming that it will be used by online daters.
Rumors
There are multiple rumors surrounding anthro as not much information was given by Roblox about it. The community has been widely speculating about it since it's announcement, spawning many rumors. A widely speculated rumor is that Anthro will release some time during the summer of 2018. Leaks have shown that anthro is still in development and appears to be almost complete, leading people into speculating that it will release during the summer. Some people believe that when Anthro is added, both R15 and R6 will be removed. This is highly unlikely as R6 has been around since the inception of Roblox, but is possible as most games are now switching over to R15 while R6 becomes less and less common. Roblox may want to phase out R6 and turn towards a more realistic avatar like R15 and Anthro being the two avatar types. Other rumors are or relate to Anthro being very different or named differently when or if it is released. This is possible, as Roblox would likely rename it to something else like R30 due to the negativity surrounding the word "anthro". Roblox would do this to create a not as negative reception of it when it was released.
Leaks
Many users have found the main files for Anthro inside Roblox's files. Lots of videos have surfaced on the web on websites like YouTube about this. These include faces, or what Roblox calls "face projections", legs, textures for bodies, actual bodies, and other unconfirmed avatars.
New Model
Roblox has recently uploaded a model that appears to be very similar to the Anthro avatar types. It can be found here.
Game
A private group led by Stickmasterluke (which involves some official Roblox administrators as members) has published a testing game called Avatar Future, which allowed users to experiment with scaling and packages pertaining to Anthro before it went private at the end of September 2018.
Trivia
This section is a trivia section. Please relocate any relevant information into other sections of the article.
Gallery
References
Community content is available under
CC-BY-SA
unless otherwise noted.