Raise a Floppa - The Loop
Play Sound
Mining Simulator is a simulator game created by Rumble Studios. in which players mine for rock and minerals to sell for coins, which can be used to upgrade tools, cosmetics, and pets.
Mining Simulator received positive reception upon release, shortly becoming the second game to beat out Jailbreak in concurrent players during 2018. The game is similar to other mining games such as Azure Mines and Minecraft.
Gameplay
Mining Simulator is a simple mining game where every player starts out with a default pickaxe (small Wooden Pickaxe) and backpack (Small Backpack), and players can work their way up to the best gears and cosmetics. There is a mining area which is the 1st layer covered with grass, then dirt and then stone and so on. There are also ores that you can mine such as Coal, Silver, Quartz, Gold, Pezzottaite, Sapphire, etc. Other subworlds exist in the game with different themes and mining areas which contain different ores, as well as shops which sell different types of tools and backpacks.
Features
Mining
When you start to mine a block, there is a bar which displays the progress of each mining cycle (when the bar is full, it means that one full mining cycle has been completed and the target ore's density decreases by the current mining power of the player). Below the bar, you can see the value of the ore you are mining. Once your backpack is full, you can go back up to the surface and sell your ore by stepping on the 'Sell' circle blacksmith. Selling ores/stones/chests/skeletons provides Coins which can be used to purchase new tools and backpacks, as well as crates for new hats, pets, and skins.
Rebirth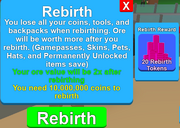 Rebirthing involves sacrificing your current tool, backpack, and coins in favor of an additional ore value multiplier. Prices of tools, backpacks, and cosmetic crates also scale up with each rebirth while any cosmetic items, pets, and permanently unlocked items that the player already has will not be lost. 20 Rebirth Tokens are also earned upon each rebirth, which can be saved up and used to buy top-tier cosmetic crates, eggs and more in the Rebirth shop without using Robux, as well as special tools that can only be obtained using Rebirth Tokens and are permanently unlocked once purchased.
Cosmetics

Cosmetics can be equipped to provide bonuses to your mining experience. They can be acquired via opening Crates or Eggs. They may increase walkspeed, jump power, mining speed, mining power or ore value. There are 4 types of cosmetics in this game: Skins, Hats, Pets, and Pet Accessories. Skins can be applied to both your backpack and tool to have a different appearance - only the highest-tier (Mythical) skins provide the most bonuses. Pets follow the player and can be named. You can only equip 1 pet at a time. Pet accessories can be equipped by unlocking them in crates and going to your inventory to equip them there. Better tier pet accessories give you better stats. You can only equip 2 pet accessories at a time. There are currently 29 pet accessories. Hats function similar to accessories, however, they can be toggled on and off using the "Toggle Hats" feature.
Game passes
Gamepass
Description
Robux Price
Image
Additional Notes
2x Dig
Doubles your mining power and your mining speed on all tools!
250
Infinite Storage
Never run out of inventory space while you're mining!
800
Nuke
Do massive damage in a massive area. Gain new nuke tool that you can use as many times as you want!
400
Stone value is only 20% of the original.
Sprint
Move twice as fast as normal players.
100
Teleporter Pad
Why walk when you can teleport?
175
Collapse Meter
Tired of the mine's collapsing while you're mining? Buy this and be warned in advance before the mine collapses.
100
VIP
Unlocks the following: 2x Ore Value, VIP Name Tag, VIP Chat Color, VIP Only Mine
350
Radio
Play your favorite songs for everyone to hear... or play obnoxious, loud music. The choice is yours!
500
Not available on Xbox One
Mythical Scythe

Unlock the elegant, Mythical Scythe that has 175 Mining Speed and 1,750 Mining Power.

(Actual stats: 190x Mining Speed, 2,000 Mining Power)

5000
Permanently unlocked once purchased
Private Mine
Tired of people coming and stealing your valuable ore before you mine it, but still want you be in the same server as your friends?
150
Friends can join your private server
Space Pass
Tired of mining 500k blocks to get to space? Buy this and instantly go to space where ore is worth more!
275
Skip/Next Crate
This gamepass allows you to skip the crate spinning animation to show you the item you earned was right away. You'll open a lot more a lot faster with this!
250
Candy Land Pass
Instantly travel to Candy Land without having to get 1 rebirth.

In Candy Land, you can get exclusive tools and ores!

200
2x Tokens
Earn twice as many tokens when you rebirth! (40 Tokens instead of 20 Tokens)
400
Developers
Main Developers 
Programmers
Graphics
Music
Trivia