New Pokemon Games - The Loop
Play Sound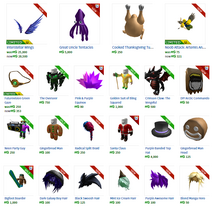 A sale is an event on Roblox that occurs during holidays such as Presidents' Day, Memorial Day, and Labor Day. Sales are now hosted by UGC creators in an attempt to make the avatar shop better ran by the users instead of staff, however as a result of this there are no more re-releases of offsale official items as well as retextures of item series such as Domini, and currently no more limited or limited unique item releases. UGC creators can now host sales by creating new items at discounts, discounting already existing items, bringing back off-sale items for a temporary period of time, and much more. Many game developers frequently discount their game passes during these sales.
The last official sale hosted was the Winter Sale 2019, but the last official major sale hosted was the Black Friday 2019 sale. When staff hosted sales, items from the avatar shop went on-sale at a discounted price, went off-sale, or became a limited item, along with some new items being introduced. Items that frequently went on-sale for these sales include the Silverthorn Antlers, Bighead and BiggerHead. Once the sale was over, the avatar shop items would revert to their usual prices (although some might have been left on-sale by mistake or for unknown reasons).
Mini Sales
Since June 2021, Sales have occurred on a minor scale.
On June 11 2021, another ""sale"" was hosted where the Neon Party Crown, Disco Ball Head, and the Neon Green Party Mohawk's price was cut in half for the next ten days (until June 21 2021).
On July 22, 2021, the Hey Summer Shades and Beach Pail Backpack's prices were cut in half from 300 to 150 robux.
Many users however, criticize these mini-"Sales" as they do not feature sought-after items such as Bighead and Workclock Headphones, with players referring to these sales as "Discounts" rather than sales. (no off-sale item has gone on-sale from this mini sale.)