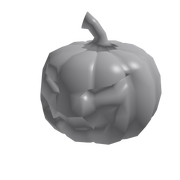 The Sinister Pumpkin series consists of small pumpkin hats with evil-looking impressions. A new one is released each year during Halloween, and they all follow the naming scheme of 'Sinister X' (where X is a letter from the English alphabet).
As of October 26, 2019, there are 10 sinister pumpkins in the avatar shop. Only the original Sinister P. can normally be purchased due to its limited status, while the rest are only sold for a certain time period during the year they are released.
The Sinister Pumpkins
Trivia
This section is a trivia section. Please relocate any relevant information into other sections of the article.
Sinister V. and Sinister Q. bear a resemblance to Darkseed the Fallen and Eerie Pumpkin Head from the Pumpkin Head series respectively.
From Sinister P. until now, 2012 is the only year that did not include a Sinister release.
Sinister F is the only sinister to have three sets of colors as of now.

It is also the only sinister to not have a period after its name, while all other series variants do (an example being "Sinister P." instead of "Sinister P".)

Sinister S is the only sinister to be released two years in a row (both 2010 and 2011).
Community content is available under
CC-BY-SA
unless otherwise noted.