Catalog Heaven
 is a popular sandbox game created by
Seranok
and
Merely
, published under the group Sky Studios. The game itself used to average 1,000-1,500 playing at a time. Nowadays, the game is less popular, normally averaging 300-500 people playing at once.
Information
The purpose of this game is for players to be able to test all of the merchandise that is offered on the catalog before they actually purchase it. When the player enters the game, a GUI menu appears, allowing them to choose from a variety of gear, hats, faces, and packages. Clothes could also have been tested at one point before being removed. These items will be received after the player has been selected and can be tested throughout the server's map, or in the case of weapons, can be used on other players. The place is extremely popular and shows up often on the front page. The game is well-received for its concept and for the scripting in-game but criticized for limiting some of the gear available for testing to VIP users only. Catalog Heaven is a generally well-received game in the ROBLOXian community, and Seranok has received lots of praise for the game. The game was also the winner for a game trailer contest. There is currently a fan group for the game, which has over 10,000 members. Catalog Heaven currently has over 1,000,000 favorites and over 279,000 thumbs up, with a 88% approval rate.
Gameplay
Players spawn in little glass rooms above the map (colloquially known as Spawn Boxes). There, players can open a GUI where they can select bodies, hats, gear, and faces for their ROBLOXian to wear. They can then enter the map. Depending on where you enter, there may be different maps. Each one changes at random. One of the maps includes giant grey rocks enclosing a grassy terrain with a white tower which you can climb on and a white house. There are five maps total.
Banned Gears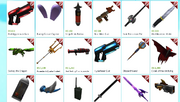 After a disputed update, certain types of gear were banned from the game for being vastly overpowered compared to most other gear. The gear is displayed, however, banned gear are marked with a circle and a line through the middle in red to signify that it's banned. Clicking on banned gear will play a bump sound and ask the player if they want to buy Banned VIP. Banned items include The Fiery Sun, Poseidon's Quake Staff, the R-Orb, Airstrike, Bunny ears of Caprice, Body Swap Potion, Crescendo, the Soul Stealer, Bear Mine Gun, and the Ninja Blink Potion. Some of the banned gear were banned due to glitches. Some may have been banned due to the fact that it allowed players to teleport into another player's spawn box. You can bypass these restrictions by buying the Banned Gear VIP Game Pass.
VIP T-Shirts
Three VIP T-shirts are currently available for the game. These versions have the titles "Normal", "Elite", and "Supreme". Certain types of gear, such as the Dual Greenstel Claws and Gold Hammer are only accessible by players who own a VIP T-shirt. Each T-shirt grants access to a certain amount of gear, with the variety increasing from Normal through Supreme.
A model of the outfit saver is located within the spawning box with text over its head stating if the player buys any VIP T-shirt the player will receive an outfit saver. If a player buys VIP, the outfit saver will become usable; the outfit that the player is wearing will stay in the form it is saved in. If players do not have VIP, or nothing is saved, the model will be made of concrete.
Normal VIP
Costs 15 ROBUX. The Normal VIP benefits are as follow:
Elite VIP
Costs 150 ROBUX. Players who have purchased Elite VIP have the benefits of Normal VIP, as well as the following privileges:
Supreme VIP
Costs 250 ROBUX. In addition to the benefits of the Normal and Elite VIPs, players who have purchased Supreme VIP will receive the following benefits:
Game Passes
There are two Game Passes available for Catalog Heaven.
Force Field Potion
This game pass gives you a potion that grants you invulnerability for a few seconds. Costs 15 ROBUX.
Banned Gear VIP
This game pass grants access to all banned gear. Costing 5001 ROBUX, the cost was justified as a means of limiting the number of players with access to powerful banned gear.
Spawn Box
The spawn box is a platform surrounded by an octagon-shaped room surrounded by a forcefield in which all users spawn in. The forcefield can be removed by clicking on a switch inside the base. All users have their own spawn box, and all of them have a different color for their spawn box. If a player has bought VIP, a dummy, outfit saver and healing pad will appear in that player's spawn box, as well as a random hat giver if a player has bought Supreme VIP. If another player touches the forcefield, it will kill that player. The only way that a player can get into another player's spawn box is if that player lowers the forcefield, or gear is used that allows players to teleport into other spawn boxes. A teleporter to the map was located in the spawn box and has since been removed. You or another player have to touch the inside of your forcefield to get out of the spawn box.
Bugs
Trivia
This section is a trivia section. Please relocate any relevant information into other sections of the article.
Community content is available under
CC-BY-SA
unless otherwise noted.