Sounds are objects that allow
Audio
assets to be played. From 2009 to early 2013, the majority of audio that could be played using sound was uploaded by
ROBLOX administrators
as players could not upload their own audio. In late 2013, audio was able to be uploaded by players allowing for a broader plethora of audio to be used in places. Prior to 2009, it was possible to upload sounds unmoderated and without limits.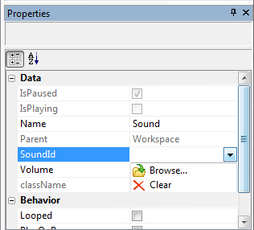 Early 2014, ROBLOX's sound engine was changed so that audio is now more reliable in playback. Playback is nearly guaranteed, even if the audio asset hasn't been preloaded.[1]
References
Community content is available under
CC-BY-SA
unless otherwise noted.