GTA: The Criminal Enterprises - The Loop
Play Sound
Spatial voice or voice chat, is a feature that was announced on the Roblox Blog on September 2, 2021[1], and was later was released on November 8, 2021, to all 13+ users.[2] It allows users to engage in voice chat within spatial experiences on Roblox.
Enabling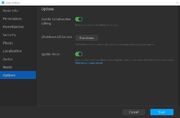 During its testing phase, eligible users would receive a private message on their account on how to participate in the feature. Developers can enable spatial voice feature in the options section of home in Roblox Studio regardless of having access to the feature itself. Eligible users in the feature would receive a notification when they join an experience that has enabled voice chat. Originally, the feature was only available at the Roblox Community Space, but now all developers can enable spatial voice in their experiences. [3]
On September 21, 2021, it was announced that the feature when released, would be available only to 13+ accounts as well as needing an age verification.
Usage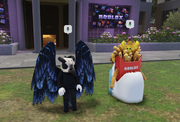 Eligible users in an experience will see a microphone icon next to their username and above the Avatar of other users that have voice chat enabled. Users will not be able to see who does or who does not have Spatial voice. Users will also be able to mute by clicking the microphone of another user.[4] In experiences which enabled the feature, only a maximum of 30 users can be allowed.
While viewing the game's main page, users who have access to spatial voice will be able to see, whether the game have spatial voice enabled or no.
During RDC 2021, it was announced that users could swear, as long as it is within moderation terms.[5]
Criticism
The feature has mainly been criticized for how users will talk within the feature. Some are worried that users will use profane language to younger audiences. It has also been pointed out from users that there will be new ways to ask for personal information from scammers, as well as notices for online dating becoming more frequent.
References
External links