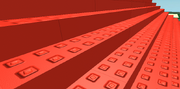 Studs represent a measure of size and distance on Roblox as well as a SurfaceType on BaseParts. The current studs are simply blank squares without a symbol on them, unlike most stud styles. The studs initially started with a circular shape (while still keeping the "R"), but then it was changed to the newer square studs, possibly due to a threat of copyright infringement from the LEGO company.
Studs are connectable to Inlet, Universal, and Weld surfaces.
Originally, studs would appear on a player's avatar if they had no shirts/pants equipped (due to the 1.0 body being made out of Beveled bricks). This feature was removed in October 2013.
Roblox is slowly phasing out studs, they no longer appear on newer created places but are still accessible through the surface tool.
History
In-Game
2003 - 2005
Studs are square and the studs look popped out instead of flat.
2006 - 2009
Studs are not popped out anymore and instead are textures on the block. The studs became circle studs, similar to LEGO. These studs have become a staple of older versions of Roblox.
Early 2009
Studs have taken on a square form, now lacking any favicon or lettering on them.
2009 - 2013
The letter "R" (for Roblox) is implemented onto the square studs, becoming one of the most iconic versions of the studs.
2013 - 2015
Square studs are refined for the first time in four years. They are given improved shading to make the studs look as if they are popping out more.
2015 – January 2017
The outlines on studs become more shaded.
January - March 2017
The "R" favicon is changed to a tilted "O" to represent the logo change.
March 2017 – present
Roblox's "O" favicon is removed from the studs and now resemble the studs from early 2009.
Other
2015 (Maintenance Page)
Studs are blocky and stick out, resembling a smoother version of the original 2003 - 2005 studs.
Trivia
This section is a trivia section. Please relocate any relevant information into other sections of the article.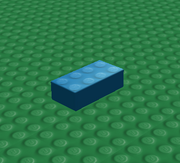 The old Roblox studs look similar to the LEGO studs.

Contrary to popular belief, Roblox was not sued by the LEGO Company for circle studs. The LEGO company does not have a patent on the LEGO brick.

The Blockland studs also appear similar to the Roblox studs, except that Roblox made their square-shaped studs before Blockland did (possibly to avoid infringement as well).
Some people dislike the new square studs and will make textures that resemble or are the same as the old circular ones.
Studs are also used in measuring. For example, a Robloxian is 5 studs tall.

According to a blog post from 2012, 1 meter is equal to 20 Roblox studs, so a stud is 5 centimeters, and a real-life Robloxian (that is 5 studs tall) would be 25 centimeters, about 10 inches tall.[1]

Sometime in December, an update was made, where inserting a brick would no longer result in it being sided with studs on the top.
The studs are based off of 1950's LEGO due to the shape of the inlets resembling LEGO pieces at the time, and David Baszucki grew up during that time.
References