StyLiS Studios is a ROBLOX development studio group made by a user named litozinnamon. The main developers in the group consist of litozinnamon, shaylan007, AxisAngle, Semaphorism, lArekan, and HypocriticalDragon.
StyLiS Studios has developed several games, most notably the famous ROBLOX first-person shooter game Phantom Forces. They also created the once-famous first-person shooter game Call of Robloxia. Some versions of Call of Robloxia are still available to play.
Hacked
Around early 2016, StyLiS Studios was involved in an infamous hack by Team OGBana, the group soon was brought back by Buddyism, a ROBLOX Staff Member.  Lito soon received the group.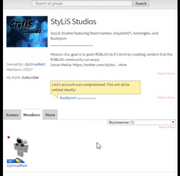 External links
Community content is available under
CC-BY-SA
unless otherwise noted.