Terabyte Services
was an application center group created by
SquirrelByte
, also known as Jay. The purpose behind the group was to allow users to create application centers for their groups and preview responses to the application center using the
TBS website
.
Staff
Italicized bullets are former staff.
Directors
Customer Support
This list is unfinished.
Unknown Roblox names:
mono
Kyle
Deleted User
Simoncuong
DrShockz
Application Centers

In April 2017, TBS was changed from an Anti Exploit service to an application center service. Ranking bots were also created around this time.
Anti Exploit

Prior to being an application center service, Terabyte Services was built around the idea of anti exploit. Games with TBS installed would have the ability to call a TBS official to the server if someone was exploiting. The TBS employee would have tools and commands to take care of the exploiter. They also had a debotting service, which removed scams from group walls.
Terabyte Advertising
Terabyte Advertising is a paired group with Terabyte Services that provides in-game advertising. Developers who put advertisements in their game receive 30 Robux every 1000 views through the payout feature on the website. 100 Robux must be accumulated in order to cash out, and the user must be in the terabyte services group. Advertisements could also be purchased at a rate of 50 Robux for 500 views, and the cap was 450 Robux for 4500 views. Ads would be purchased at the Advertising Central game.
Group Deletion
On September 8, 2017, the TBS group was deleted due to the ability to purchase plans via Robux, as well as SquirrelByte being warned for "scamming". This led to issues with payment for plans and a complaint being created.
Terabyte Special Event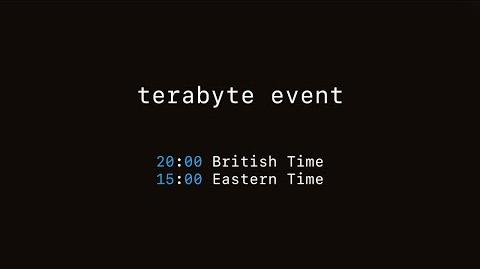 On April 14, 2018, Terabyte hosted a special event at the [ Terabyte Auditorium]. The event featured SquirrelByte, the chairman, JamesHenrickAnderson, the Vice chairman, and XenoSynthesis, one of TBS directors. The event announced several new features, including Teramin and Auto Grading. Both of these features were later cancelled as TBS matured.
Teramin was designed to be an administrative based services where game owners could control their games through the TBS website. The planned release date was April 28, 2018.
The full video can be seen here.
Terabyte Office
Terabyte Office is an interview system created and owned by the developers of Terabyte Service. The building features 10 offices with interviews ran by bots. The game owner would connect the game to an application center created on the website and when the interview was started, bots would host interviews with players. When the interview was concluded, the player's answers would be sent to the website like an application. The office was first announced on August 9, 2018, when it was used for TBS Customer Support applications.
On August 16, anyone who joined the office could get a 10-minute demo. This option was removed on September 5, when users could purchase the office for 2 hours for 129 Robux. Two days later, the price was dropped to 99 Robux. Then, on October 19, the office was updated to have invitation codes, and the purchasing was changed to 99 Robux for a lifetime server with one code.
Discontinuation




On December 5, 2018, Jay announced that shutting down TBS would be considered, due to the removal of private modules.[1] This includes the application centers, Terabyte Advertising, and TB Office. Following the announcement, a petition was created on the website and in all application centers going against the removal of private modules. The petition has received over 80,960 signatures for the 15 days it has been available. On December 21, 2018, it was announced on the TBS discord that terabyte was going to be shutdown permanently. On January 31, 2019, one day prior to the shutdown, all application centers were replaced with the shutdown notice. Terabyte Advertising was also shut down.
References
Community content is available under
CC-BY-SA
unless otherwise noted.