This page needs improvements to meet the Roblox Wikia's standards.
This article needs a complete rewrite or cleanup to meet the Roblox Wikia's quality standards. Please proofread this page and edit this to make it revamped. The specific problems are: Needs rewrite, "Types" section converted to tabview like other series pages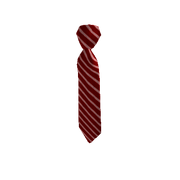 A
Roblox Tie
 is a
Hat
in the shape of a tie and is worn around your neck instead of on your head, like most hats. Most ties are as simple as. the
ROBLOX
Logo on a colored background, but some can be more complex, such as the Art Tie and several Bowties.
Types
A list of all ties, and special ties:
T-Shirt Tie Cheat
Some players have modified Ties and uploaded them as T-shirts. These T-shirts give the same look as a person wearing a real tie without actually buying the tie.
Community content is available under
CC-BY-SA
unless otherwise noted.