Welcome to my profile,

user

!
I am...
Information
Hello there, I'm Michael!
I joined Roblox in March 2017 on my old account named Michael105Gaming, but I used 2-step verification on it and didn't have access to the email address I used for the account anymore. Then, I created a new account named Michael105YT, and that is the account I use on Roblox today. You can also read this page if you wish to learn more information about me.
I am active in the Roblox Wikia's Discord serverJoin. I requested content and discussions moderator in September 2019 (my request can be viewed here) and it was soon accepted, giving me the moderation powers. On July 7, 2020, I was given administration powers per my request.
In order to reduce this page's size, some sections have been collapsed. Click on the [Expand] buttons in order to view the collapsed content.
More information
List of my favorite Roblox games
These are not in any specific order.
Trivia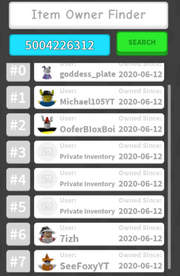 Did you know that...
Please do not use my media below (except the Roblox Wikia and Interwiki Discord server Join) to contact me about Roblox Wikia matters.
---
Community content is available under
CC-BY-SA
unless otherwise noted.