TheIronRobloxian is a user on Shedletsky's forum IronNoob. (Please do not join) His Roblox account is Robloxian25537811 (The link on top of the avatar is not correct). This user is best known for his first IronNoob Personal Build Server, a PBS open exclusively for members of The IronNoob Forums. Roblox Administrator John Shedletsky joined the server for about 5 minutes, causing Shedletsky's stalkers to try and get in the place, as shown in the comments. They would keep trying to get in the place, some of them would try to send Friend Requests and ask to get in the place.
Texture Pack
TheIronRobloxian is currently working on a Roblox Texture Pack. While the idea sounds absurd, it is entirely possible. The texture pack can be downloaded here.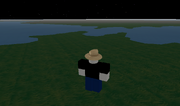 Virus Complaints
IronNoob user Nutsnbolts posted a thread about this texture pack on the Roblox Forums (Oh god why) and some users have complained about the Texture Pack having a virus. They were from the Roblox Forums, and everyone knows how stupid they are with their Single Digit IQ . The original creator had to comfirm the Texture Pack did not have a virus. As of 2/24/2013, the thread is deleted.
Website
I have created a small free website. It is made with Google Sites and so far, it just contains a Lefora Forum and a Xat Chat. I would appreciate it you would come and join! Anyways here's the link:
https://sites.google.com/site/robloxianshangout/home
Social Media
Alternate Roblox Accounts
If for what ever reason Roblox decides to ban me, my alternative account is RegularRobloxian31 (Better name, I know). Another is TheIronRobIoxian (Not an "l" in the username, instead a capital "i") . Some reasons I don't deserve it, other reasons... maybe. If you want to contact me and it says on the page the user is banned, contact me with that account as said before.
Image Gallery
Useless Trivia
Robloxian25537811's Clockwork Level is 38 (Calculated with Clockwork's official calculator).
Robloxian25537811's Ranking is "Good Player!"
This user has built for Lego Hero Factory.
This user is Rank 6047 on Roblox Ranks (Outdated)
This user used to have Builders Club.
This user has the following badges:
Community content is available under
CC-BY-SA
unless otherwise noted.