I tried to make this look like a Community: page. I am so mad that the admins reverted the edit to replace it with the default FANDOM profile page after all the work I put into it >:c ("SOME IDIOT COPY PASTED SINCE YOU STARTED WORKING HARD ON A PROFILE PAGE!! YOU WILL HAVE TO MERGE YOUR DELETED WORK INTO THE POINTLESS TEXT!") I had to REWRITE THE ENTIRE THING.
Community:VanWoody789
"I have a blindfold because I have no eyes. The blindfold is my eyes." - VanWoody789's most recent status post
Profile
Since the profile link redirected to the user's FANDOM profile, profile is here: https://web.roblox.com/users/125736682/profile
VanWoody789
joined on 2016 on the account
VanWoodyPlays
.
VanWoody789
created his account on May 8th, 2016. He often changes his avatar to make him look like a frog with a blindfold on. Even he doesn't remember how or when he got the purple blindfold. It is actually the Next Level Future Visor.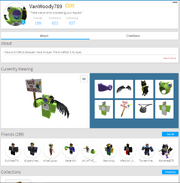 Join Date (History)
VanWoody789 was created on May 8th, 2016. He instantly changed his avatar to a 1.0 with the Green Jersey and no accessories.
Builder's Club (History)
The exact dates VanWoody789 got BC & TBC are unknown. Here are some estimates. BC - Mid-Late 2017 TBC - Early 2018
Safechat War (History)
This user should be notable for naming the aggressive protest for over-the-top safechat for users under 13 the "Safechat War". I guess you could say he was an "elite solider" in the war. (Okay, stop the military jokes.)
Community content is available under
CC-BY-SA
unless otherwise noted.