Roblox is located at www.roblox.com and any other subdomains (e.g. web.roblox.com). The only other official addresses that Roblox uses are the test servers, at gametest[1-5].robloxlabs.com and sitetest[1-5].robloxlabs.com, as well as some other subdomains that are more rarely seen, but that all end with ".roblox.com". Websites that claim to be Roblox but do not fall under the above categories are fake and could be trying to gain access to your account via phishing. If you see a website that claims to be Roblox or give free Builders Club, Robux, or other perks, do not click on it or go to it to avoid risking your account details.
Clicking the Roblox icon in the top left of your screen will always take you to the homepage of the website.
The main menu is the white and blue box on the top of and to the side of your screen. No matter where you are on the site, you will see the blue bar. However, the white bar may be closed (to open it, use the hamburger icon to the left of the Roblox icon). You can use these menus to get around the website.
Click on something in the picture to learn about it!
Note: The theme shown is the dark theme. it is available in the "My account" or settings page on the website. 
Another Note: This interface may appear differently on other devices. This is how the site should look on a PC or Mac.
Login
In the top left corner of the menu bar you can see your username. Make sure it's you, and not your friend who forgot to log out! If a username isn't shown and it's just "Login", then you need to log in!
If you click Login you will be shown the Login box. All you do is type in your username and password, just like on any online site.
Once in a while, you may forget your password. When this happens we can email you your password back! This only works if you gave us your email when you signed up, so make sure you verify your account as soon as possible. You can go on this page if you forgot your password.
You can find more information about lost passwords on this page.
Logout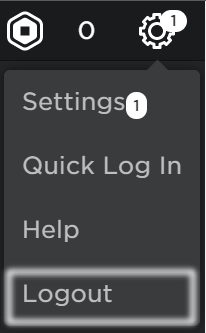 The logout button will log you out of your account. If you logged in at a public computer, make sure to log out when you finish playing on Roblox. If you log out, your account will be protected and it will ensure that no one else gains access to your account.
Leaving your account logged in on a shared computer may lead to your account being hacked.
Community content is available under
CC-BY-SA
unless otherwise noted.